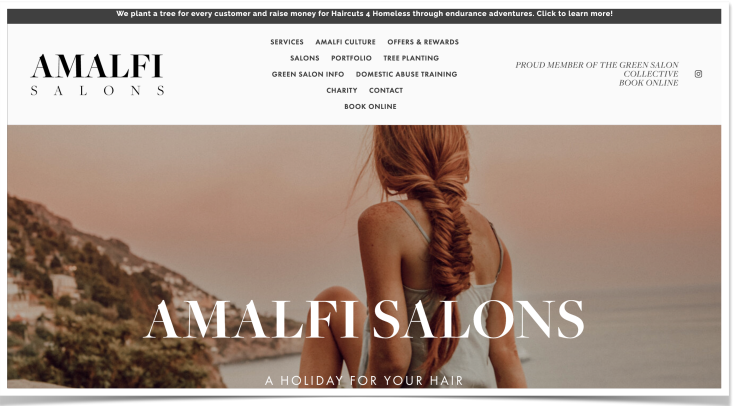 Graphics Design, Web Development & Marketing
Client Profile
Mr. Jamie Simpson is a business owner who has a chain of hair salons called AMALFI SALONS; Amalfi Salons owns multiple hair studios in the United Kingdom.
Requirements
| | |
| --- | --- |
| | There were primarily 4 areas Mr. Jamie wanted help with - Documentation form filling, Graphic and website edits, social media management, and Email organization. |
The client had initially acquired a business. Hence a lot of information on the new business was to be sought from the previous owner, and compiled in one single location. Mr. Jamie needed help in managing his professional email account and in creating word documents to put all account information , passwords , documentation etc in place. Mr. Jamie also need help with revamping the business website, to make it more lively and appealing. 
Project Execution
Mr. Jamie's AskSunday virtual assistant coordinated with the previous owner of the business, sought all information and compiled it in a set of documents in a single dropbox folder. The assistant also organized his email account into the correct subfolder.
AskSunday assisted him with website competition analysis. Mr. Jamie needed assistance with web page creation and graphics design for his website www.amalfisalons.com.
Mr. Jamie's assistant checked all the requirements, provided expected turnaround time and a detailed plan of action with timelines. Upon the client's approval, our expert web team completed the project within the committed time. Being impressed by the work, Mr. Jamie upgraded the account with one of the higher plans.
AskSunday has also been assisting him with posting onto his social media accounts. His assistant has been handling his Instagram and Facebook accounts everyday wherein he uploads pictures and posts that draw the target audience's attention.
AskSunday has been assisting the client with graphic design work, website management, appointment setting, data entry, document editing, internet research, and image creation.
Mr. Jamie has been impressed with timely delivery and quality service, and continues to delegate a growing quantum of work month over month.  
"I've been working with Harsh Shah and have increased my subscription - the number of hours - on two occasions already and that's due to the fact that the speed of the work I get back is absolutely phenomenal & the quality of the work is really, really good. The communication is fantastic!"
- Mr. Jamie Simpson