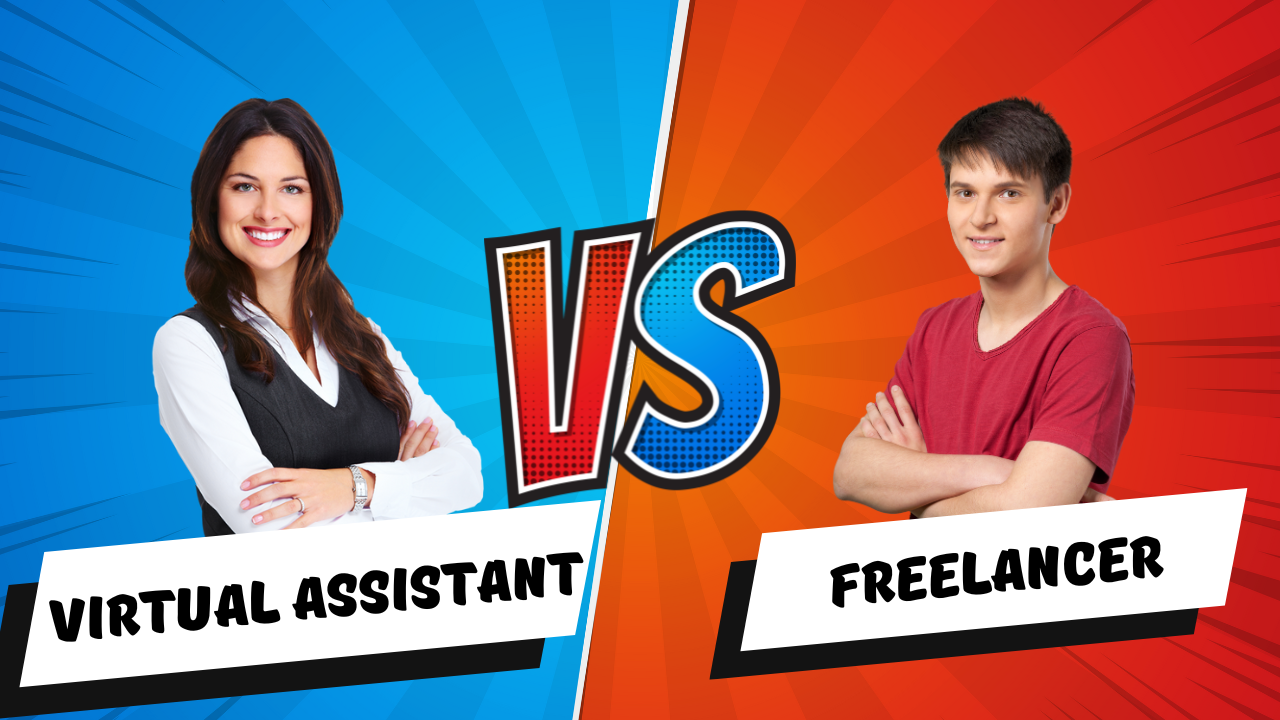 Virtual Assistant Versus Freelancer Comparison
If you talk about remote work and business efficiency, two prominent options stand out for getting tasks done: purchasing a plan from a virtual assistant service or hiring a freelancer. Both offer unique advantages and considerations that cater to different business needs. In this comprehensive guide, we'll conduct a detailed comparison between these two options, addressing the questions that arise when deciding between them.
Virtual Assistant Service: The Power of Comprehensive Support
A virtual assistant service provides access to a team of skilled professionals who can handle a wide range of tasks. Here's why it might be the right choice for you:
Key Benefits of a Virtual Assistant Service
1. Diverse Skill Set
Virtual assistant services offer access to a team of professionals with diverse skills, enabling them to handle a wide array of tasks effectively.
2. Scalability
As your business grows, virtual assistant services can easily accommodate increased tasks, ensuring you have the necessary support to meet demand.
3. Reliability
With a service, you're less likely to experience disruptions due to illness or unavailability, as there's a team ready to step in when needed.
4. Consistency
Virtual assistant services often have established processes and standards, resulting in consistent and high-quality task completion.
Common Questions About Virtual Assistant Services
1. How Do Virtual Assistant Services Select Their Team?
Reputable virtual assistant services have a rigorous selection process, ensuring they hire skilled professionals with proven track records.
2. Can I Communicate Directly with My Virtual Assistant?
Yes, most virtual assistant services facilitate direct communication with your assigned virtual assistant, ensuring seamless collaboration.
3. How Do Virtual Assistant Services Ensure Data Security?
Ask about their data security practices and whether they require virtual assistants to sign non-disclosure agreements (NDAs) to protect your confidential information.
4. Is There a Trial Period with Virtual Assistant Services?
Many services offer trial periods during which you can evaluate their services and decide if they align with your needs.
Hiring a Freelancer: Tailored Expertise and Flexibility
Hiring a freelancer offers personalized expertise for specific tasks. Here's why it might be the right choice for you:
Key Benefits of Hiring a Freelancer
1. Specialized Skills
Freelancers often specialize in specific areas, making them ideal for tasks that require a particular expertise.
2. Direct Communication
When working with a freelancer, you have direct communication, allowing you to provide immediate feedback and instructions.
3. Flexibility
Freelancers offer flexible arrangements, enabling you to hire them on a per-task basis without any long-term commitment.
4. Cost Flexibility
Depending on the task and the freelancer's experience, you can often find budget-friendly options for tasks of varying complexities.
Common Questions About Hiring Freelancers
1. How Do I Find a Reliable Freelancer?
Platforms like Upwork, Freelancer, and Fiverr offer ratings, reviews, and profiles that help you evaluate the reliability and skills of freelancers.
2. Can Freelancers Handle Complex and Ongoing Tasks?
Yes, many freelancers are experienced professionals who can handle both one-time projects and ongoing tasks.
3. What Happens if a Freelancer Is Unavailable?
While freelancers can become unavailable due to their workload, good communication can help you plan around such situations.
4. How Do I Ensure Quality Control with Freelancers?
Provide clear instructions, communicate expectations, and set milestones to ensure the freelancer understands and delivers the desired outcome.
Making the Choice: Virtual Assistant Service or Freelancer?
Considerations for Your Decision
1. Task Complexity
If you need specialized skills for specific tasks, a freelancer might be more suitable. For diverse tasks, a virtual assistant service offers comprehensive support.
2. Long-Term vs. Short-Term
If you anticipate ongoing tasks, a virtual assistant service provides consistent support. For short-term projects, a freelancer might be a better fit.
3. Scalability
If your workload varies, virtual assistant services offer scalability. Freelancers can be hired on an as-needed basis.
4. Communication Preference
If you prefer direct communication and immediate feedback, hiring a freelancer offers a more personalized experience.
| | | |
| --- | --- | --- |
| Points of Difference | Virtual Assistant Service | Freelancer |
| Diverse Skill Set | Offers access to a team with diverse skills. | Specializes in specific areas of expertise. |
| Scalability | Easily accommodates increased tasks as you grow. | Flexible, suitable for one-time projects. |
| Reliability | Backup team ensures task continuity. | Dependent on individual freelancer's availability. |
| Consistency | Established processes lead to consistent outcomes. | Outcomes vary based on freelancer's approach. |
| Direct Communication | Offers direct communication with assigned assistant. | Enables direct and immediate communication. |
| Data Security | Often require NDAs to protect sensitive data. | Data security practices vary by freelancer. |
| Trial Period | Frequently offer trial periods for evaluation. | No standardized trial periods, varies by freelancer. |
| Specialized Skills | Provides specialized skills for various tasks. | Ideal for tasks requiring specific expertise. |
| Flexibility | Tailors arrangements to specific tasks. | Enables flexible hiring on an as-needed basis. |
| Cost Flexibility | Costs vary based on package and services. | Offers budget-friendly options for different tasks. |
| Unavailability Handling | Backup team ensures continued support. | Freelancer unavailability requires adaptation. |
| Quality Control | Follows established processes for quality control. | Quality control is more reliant on communication. |
| Long-Term vs. Short-Term | Suitable for ongoing tasks and long-term support. | Ideal for short-term and specific projects. |
Conclusion
The decision between purchasing a plan from a virtual assistant service and hiring a freelancer ultimately hinges on your business's unique needs and preferences. Virtual assistant services offer comprehensive support and scalability, while freelancers bring specialized skills and flexibility. By assessing your tasks, communication requirements, and long-term goals, you can make an informed decision that aligns with your business's growth and efficiency objectives.